Tankless Water Heater Installs in Atlanta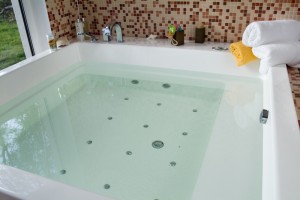 Suwanee mechanical can install tankless water heaters in Atlanta homes. Tankless water heater has some definite advantages over traditional water heaters. They have become popular in the last decade or so. Tankless water heaters operate completely differently than tank-style heaters. Rather than keeping gallons of water hot 24 hours a day, seven days a week to be ready when needed, tankless water heaters heat water on demand. When the tap is turned on, the tankless water heater goes to work instantly heating the water as it is needed.
Advantages of Tankless Water Heaters
One of the biggest advantages of tankless water heaters is that you never run out of hot water and have to wait for more to be heated. It's always hot and ready. Plus, because they are not working 24/7 to keep a large tankful of water heated, they use less energy and are therefore more environmentally friendly. They also take up less floor space (they are about the size of a small suitcase and are attached to a wall).
One final advantage is that tankless water heaters have longer lifespan than traditional water heaters. Traditional water heaters last 10-15 years, while tankless water heaters last 15-20. One of the only disadvantages to tankless water heaters is the price. They cost about three times what a traditional water heater costs to install, but you can recoup the costs because they are a more efficient water heating solution.
Expert Tankless Water Heater Installation in Atlanta Area Homes
As you can imagine, the installation process is completely different for a tankless water heater as well. Our technicians have been trained and are skilled with either styles of water heater. If you're still not sure which one you'd prefer, give us a call today and we will be happy to help you decide. No matter which style of water heater you prefer, the Suwanee Mechanical will be able to repair it quickly and accurately.